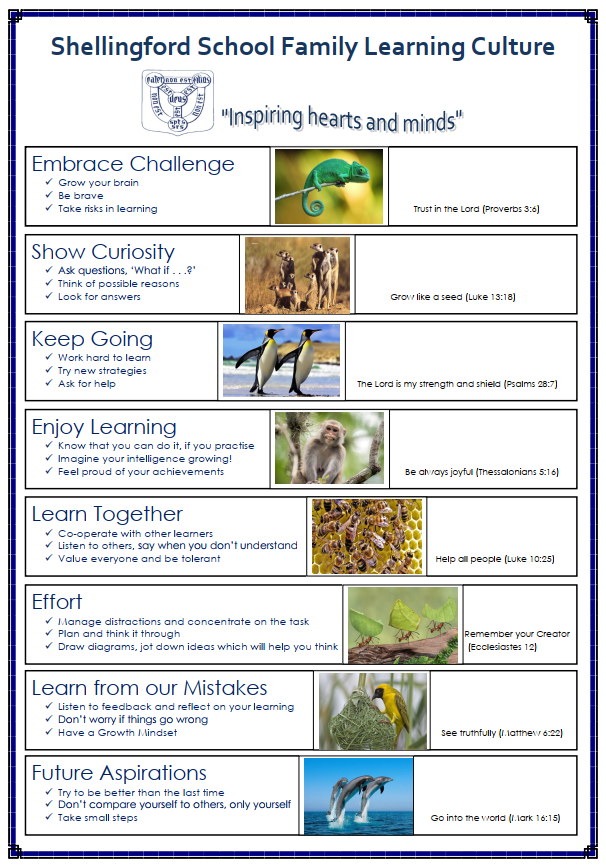 We provide all children with a wide range of learning opportunities delivered by skilled and experienced staff. We aim to help each child develop in knowledge, skills and understanding and to become confident and independent learners. We place our children at the centre of their own learning and our curriculum is meaningful and engaging. We work in topics and make links across individual subjects. Themes have included Inventions and Invaders, Tales from other Lands, Performance and Theatre, and Our Locality. We use our wonderful outdoor learning environment to develop practical life skills through different physical activities and environmental issues.
Our Curriculum Framework can be viewed here together with an overview of learning for each year group:
Shellingford School Family Learning Culture
Our teaching and learning is based on the Christian values which permeate the ethos of the school, and through this we seek to promote our vision statement:
'Inspiring hearts and minds'
It is central to our school ethos that, within the broad, balanced and relevant curriculum opportunities provided; we ensure an appropriate balance between the academic, physical, creative and cultural areas of the curriculum thereby developing all aspects of the pupil. Our Shellingford School Family Learning Culture fosters a growth mindset approach to enable children to be successful learners.
Assessing children's learning
We aim to develop within children the language of learning, enabling children to be more involved in their learning by being able to know their strengths and areas for development. We encourage children to identify their own particular learning needs and help them to find ways of meeting them.
Through this we believe children's problem solving skills, independence and self-esteem will be improved.
Assessment opportunities are a natural part of teaching and learning, and constantly take place in the classroom through discussion, listening and analysis of work, along with more formal assessment tests at the end of a unit of work.
Every week each full-time teacher spends half a day away from their teaching duties to concentrate on planning and evaluating their pupils' learning. We use specialist teachers to provide cover during this time which allows the children to benefit from PE, Art or Music. We also use staff expertise to teach Forest Schools, Languages and ICT throughout the school.